If your Tripleseat site integrates with a payment processor, that means from the Tripleseat Guest Portal, your guests will be able to authorize their credit card. That way, you can run their card online for future payments related to that event. In order for this to work, your guest must be listed as a contact for the event, and you must share at least one document layout with them. This article will explain best practices for how your guests can authorize their credit card online.
Authorizing a Card
In order for your guest to authorize a card online, you should:
Go to the Docs tab on the event.
Click Share to the right of at least one Document layout (like the Contract). This will invite you to send an email to your guest. Send or choose to Share without sending.


The guest will then be able to:
Open the email. Click on the attached document.
Click Authorize a Card.
Enter the field data and submit.


Your payment processor provides and encrypts those fields so any data entered will be safe online. If they choose to "Keep card on file for future bookings" at this time, the card will stay authorized for the contact in question so you can use it on future events they may host with you. Once complete, Tripleseat will notify the event owner and manager, and the payments tab on the event in Tripleseat will say 1 to the right of Credit Card.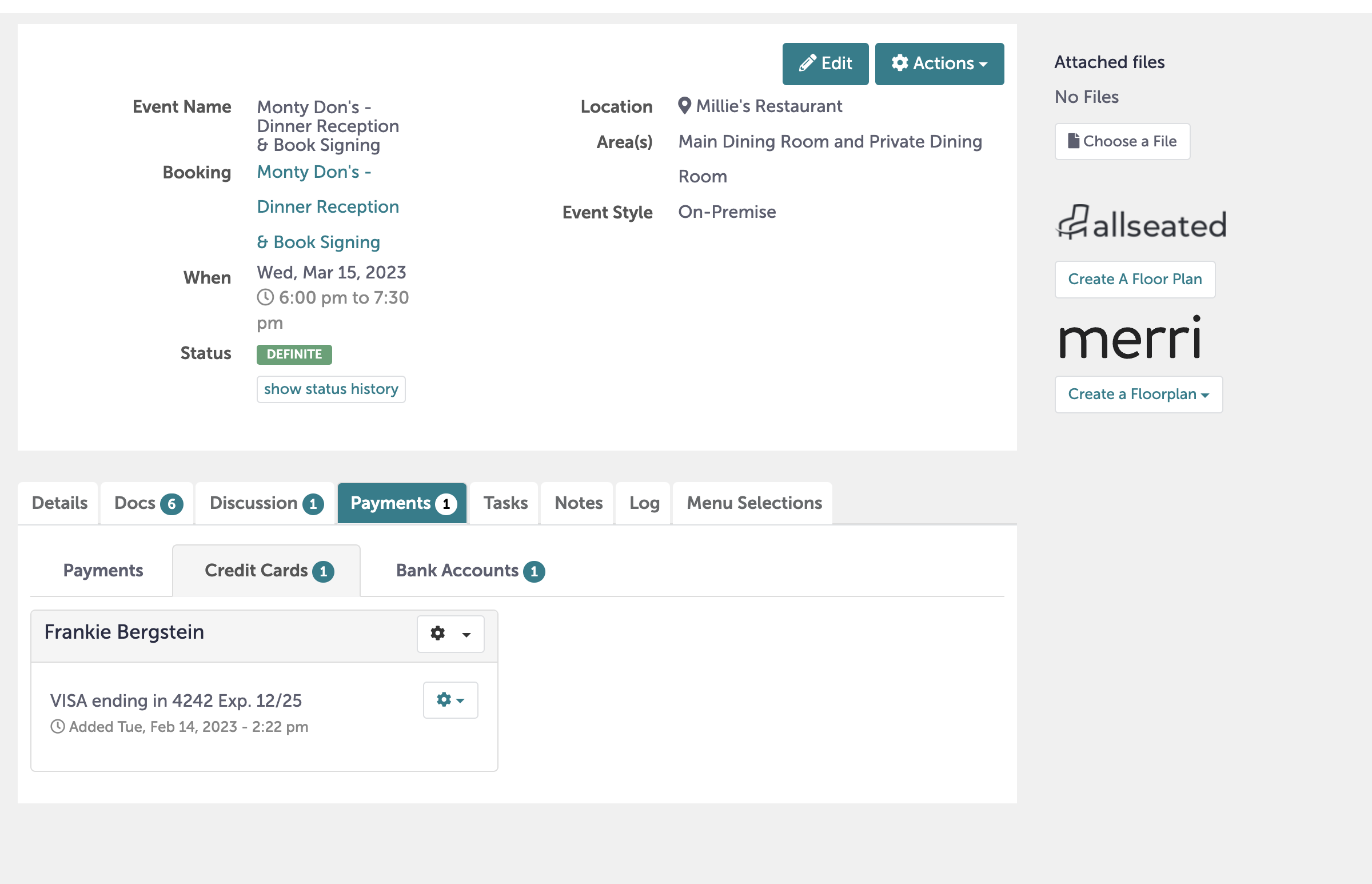 Running a payment
Just because a guest has authorized their card, that does not mean that you have received any payment. If you'd like to run a transaction using the authorized card, please take the following steps.
Click on the Payments tab.
Select the gear icon next to the payment you wish to pay. Click Pay.
Set the Payment Method as Credit Card.
Submit.


This will initiate a transaction to the card on file.
Pro Tips: If a guest has authorized a card on file for future use, deleting the card from the event will remove it from their corresponding events.
Guests cannot delete their card from an event. Cards can only be deleted by Tripleseat users by clicking the gear icon next to the credit card and selecting remove.