Beyond simply creating documents for their guests' events, Tripleseat users may share those documents via the guest portal, and accept online payment if their business integrates with an online payment processor. That third-party processor will encrypt the guest's credit card or ACH information so that it is PCI compliant and safe online. The processor also transfers the funds for any online transactions. More information about those online payment integrations may be found here.

Tripleseat adds two additional layers of security:
Tripleseat limits who may make online payments through the portal
Tripleseat sets rules around what needs to happen in order for payments to be payable.
All of these steps exist to ensure the safest payment experience for your guests on the web. This article explores those security features and how you, as a Tripleseat user, should share payment information with guests when they are ready to pay online.


ENSURE THE GUEST IS A CONTACT
Only contacts listed for the event or booking in Tripleseat will be able to authorize their card or pay online. So if your guest forwards the portal link to a family member, vendor, or colleague, when that other person visits the guest portal, the option to pay online will not appear.

To confirm your guest may submit payment, go to the event or booking in question. On the Details tab, check that the contact who wishes to pay appears. Not only must their name be listed, but they must also have an email on file. If the person in question does not appear, click Edit in the upper right and Add a Contact.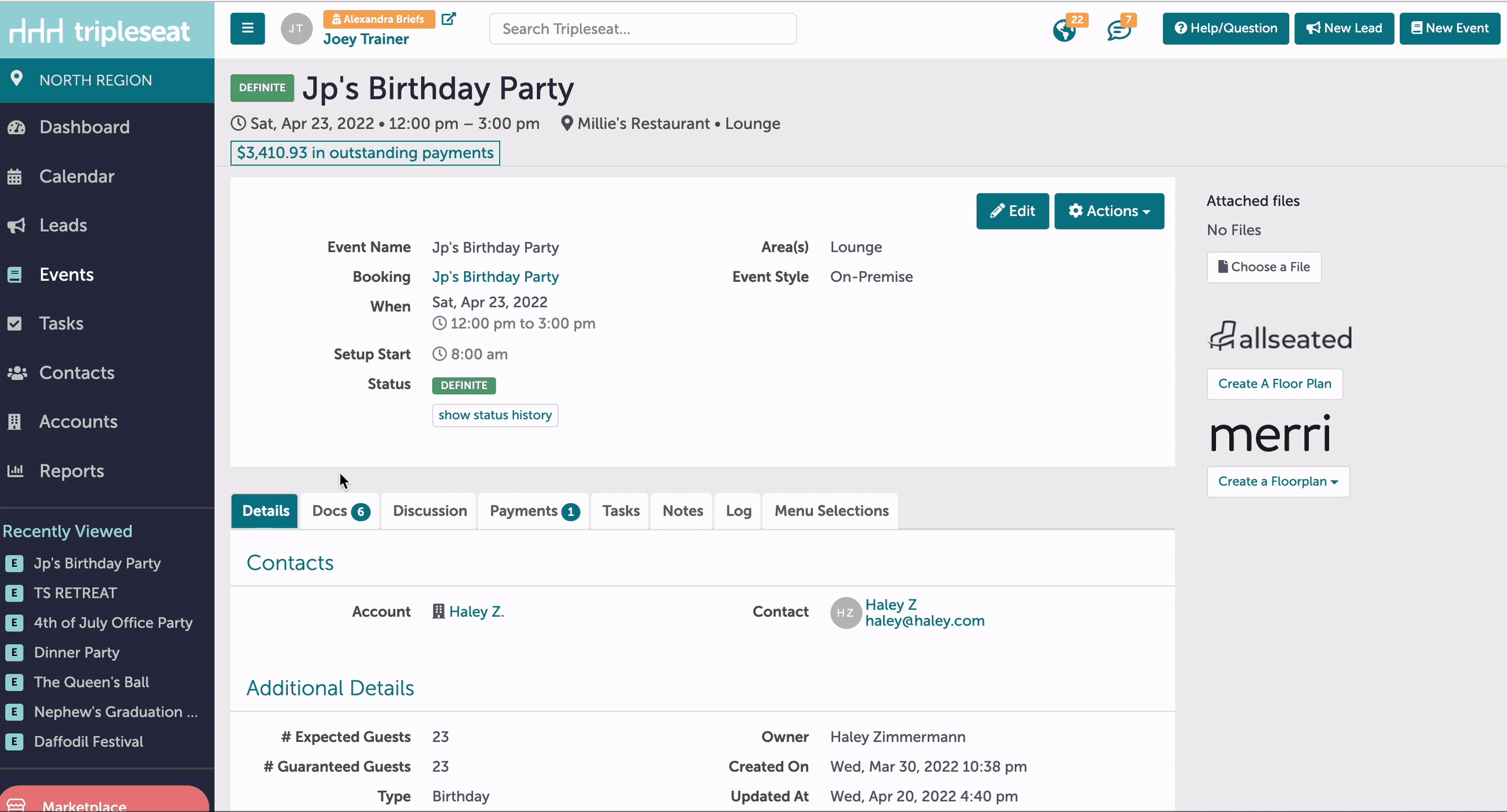 CREATE AND SHARE DOCUMENTS
When you create a set of documents for an event or booking, that generates the cost you quote to your guest. Having an 'Amount Due' matters because it indicates that charges exist against which to make payment.

Just as important as creating documents is sharing those with your guest. From the Docs tab, click 'Share' to the right of a document layout (Invoice, Contract, BEO, etc.). That activates the online payments section of the portal at the same time that it shares the document with the guest. Do not use the link option to copy and paste that link into an email. That is a good option to quickly provide the document link to your guest, but it does nort work in tandem with the online payments section of the portal.

REQUEST PAYMENT VIA DISCUSSION MESSAGE
If you have a long sales cycle and your guest needs to make payments at intervals, this method is a great option. When a certain payment is due, go to the Payments tab. Click on the gear icon to the right of the payment you need. Click Gear Icon > Request Payment. It will start a new discussion thread related to that request and include a link your guest may use to pay.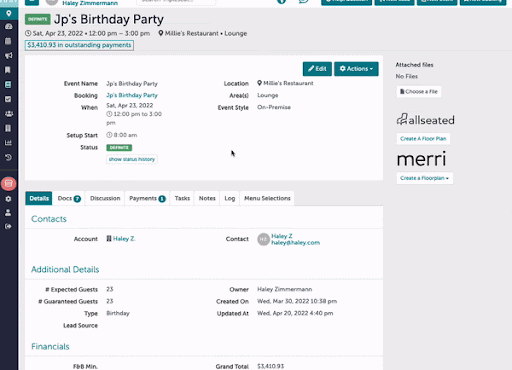 REQUEST CREDIT CARD AUTHORIZATION

Lastly, you can request a guest to authorize their credit card to keep on file. You can do this by going to the payments tab, clicking Credit Cards, clicking the gear icon to the right of the contact's name, and selecting "Request Authorization."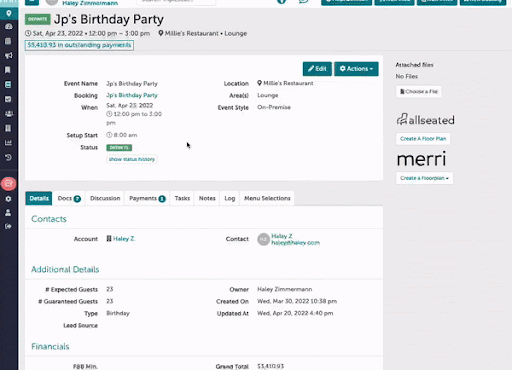 PRO-TIP: If you first send the link through your personal email the payment portal will not be activated, but after that initial share through Tripleseat to activate the portal, you can then send the contact portal links.