There are various places within Tripleseat where you may prefer to copy and paste data into your site rather than typing it out from scratch (email templates, picklist items, terms and conditions, etc.). Taking the time to copy and paste properly will ensure that your documents, emails, and any other customizations maintain as professional an aesthetic as possible.
Even if it may not look like it, all text is wrapped in code that informs its appearance. When you copy something from Microsoft Word, Google Sheets, etc., the copied text also brings with it the invisible formatting code. That code can conflict with the styling applied by Tripleseat textboxes, resulting in an end appearance that feels disjointed. An example of that is below.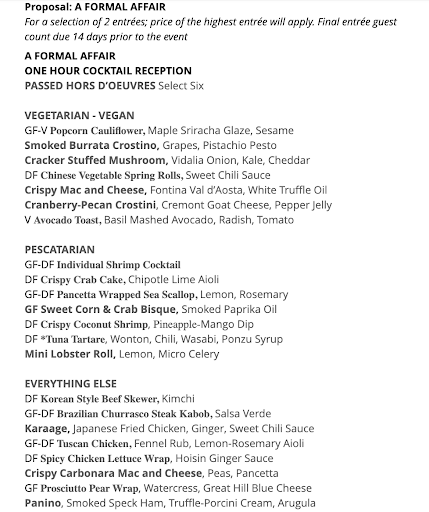 To ensure a uniform appearance of any text that you paste into Tripleseat, make sure to follow either method described below.
Convert to Plain Text via Third-Party Program
In this workflow, you would convert your source material into plain text before adding it to Tripleseat. To accomplish this, you can use a third-party program. TextEdit and NotePad, which come already installed on most Macs and PCs respectively, are two programs that can do this.
Open the third-party text editing program. Set it so that it converts to plain text.
*Because the Support team uses Mac, this Giphy shows how to open TextEdit on a Mac then click Format> Make Plain Text.



Open the document or webpage you are copying from. Copy the source material.


Paste into the third-party program. You will know it has worked because the text will look stripped back.


Copy the text again from the program.


Paste into Tripleseat.


Reapply any styling as desired from within Tripleseat.


Clear Formatting After you Paste into Tripleseat
Copy the source material.


Paste into Tripleseat.


After you paste, highlight the text. Then click on the icon "Clear Formatting." This will strip away any styling code wrapped on the text you have pasted.


Reapply styling as needed.



Pro Tip: You can use the keyboard shortcut to expedite copying and pasting.
Copy: Cntrl + C on PC and Command + C on a Mac
Paste: Cntrl + V on PC and Command + V on a Mac