Having trouble finding and applying a Discussion Email Template that you'd like to share with your guest? That can happen from time to time but fear not. This article will provide some troubleshooting tips for tracking down that elusive template.
ARE YOU APPLYING THE EMAIL TEMPLATE FROM THE EMAIL EDITOR?
Email Templates may only be used via the Email Editor, as explained in this article, How to send Discussion Email Templates. The Email Editor opens a popup window allowing you to confirm recipients, select either a General or personal Email Template, and customize your message. (If you use the General Templates dropdown, that will display groupwide templates crafted in Settings. If you use the Your Email Templates dropdown, that will show you emails configured in My Profile.)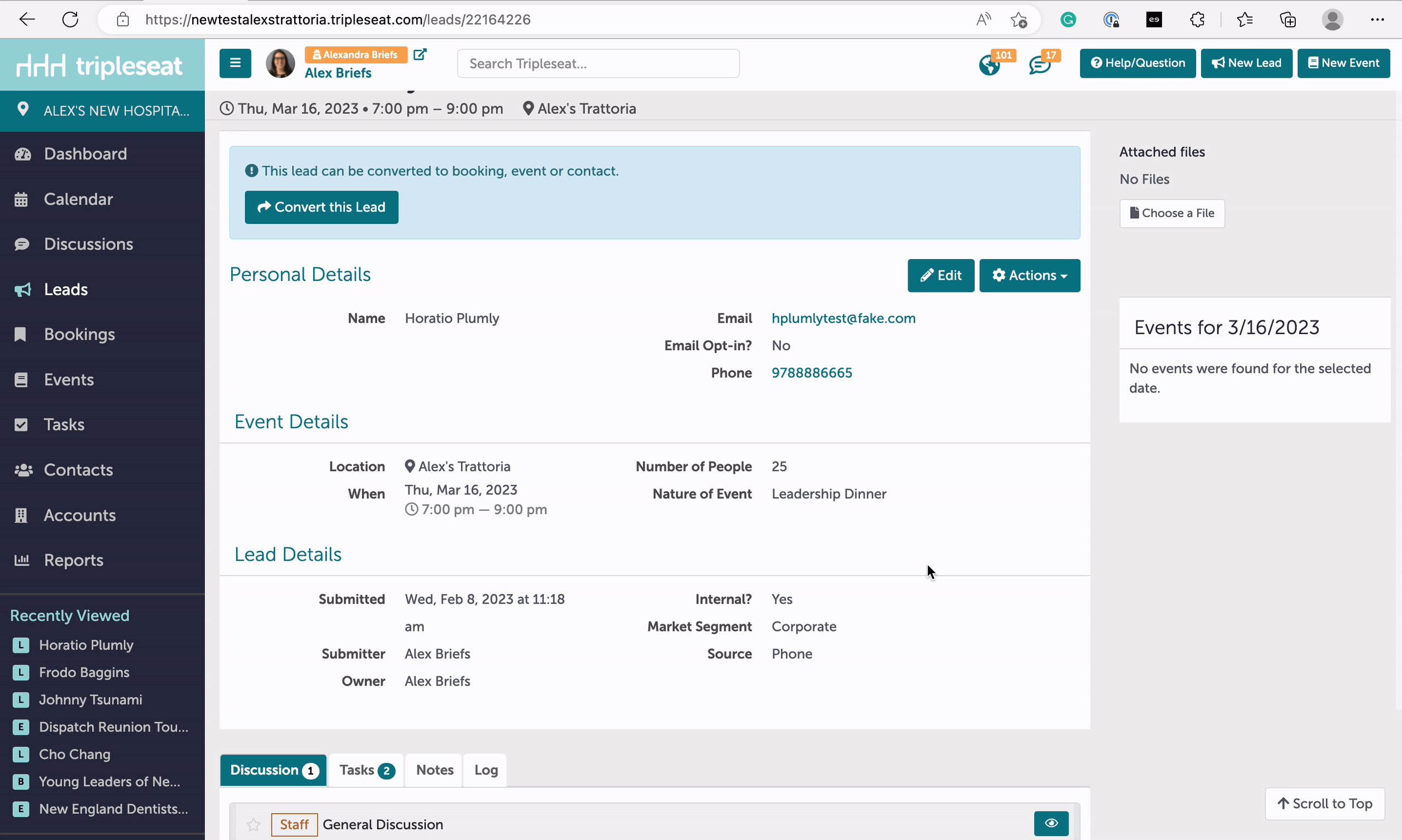 If you type your email in the General comment box instead of the Email Editor, you will still see a dropdown that says "Templates." This refers to Content Templates, not Email Discussion Templates. Content Templates are designed to plug into textbox fields in Documents, and any merge fields in those will not render properly if applied to a Discussion message. And because that dropdown is not related to Discussion Email Templates, that explains why you will not find any of your emails in that spot. If this is the issue, be sure to click "Use Email Editor" instead.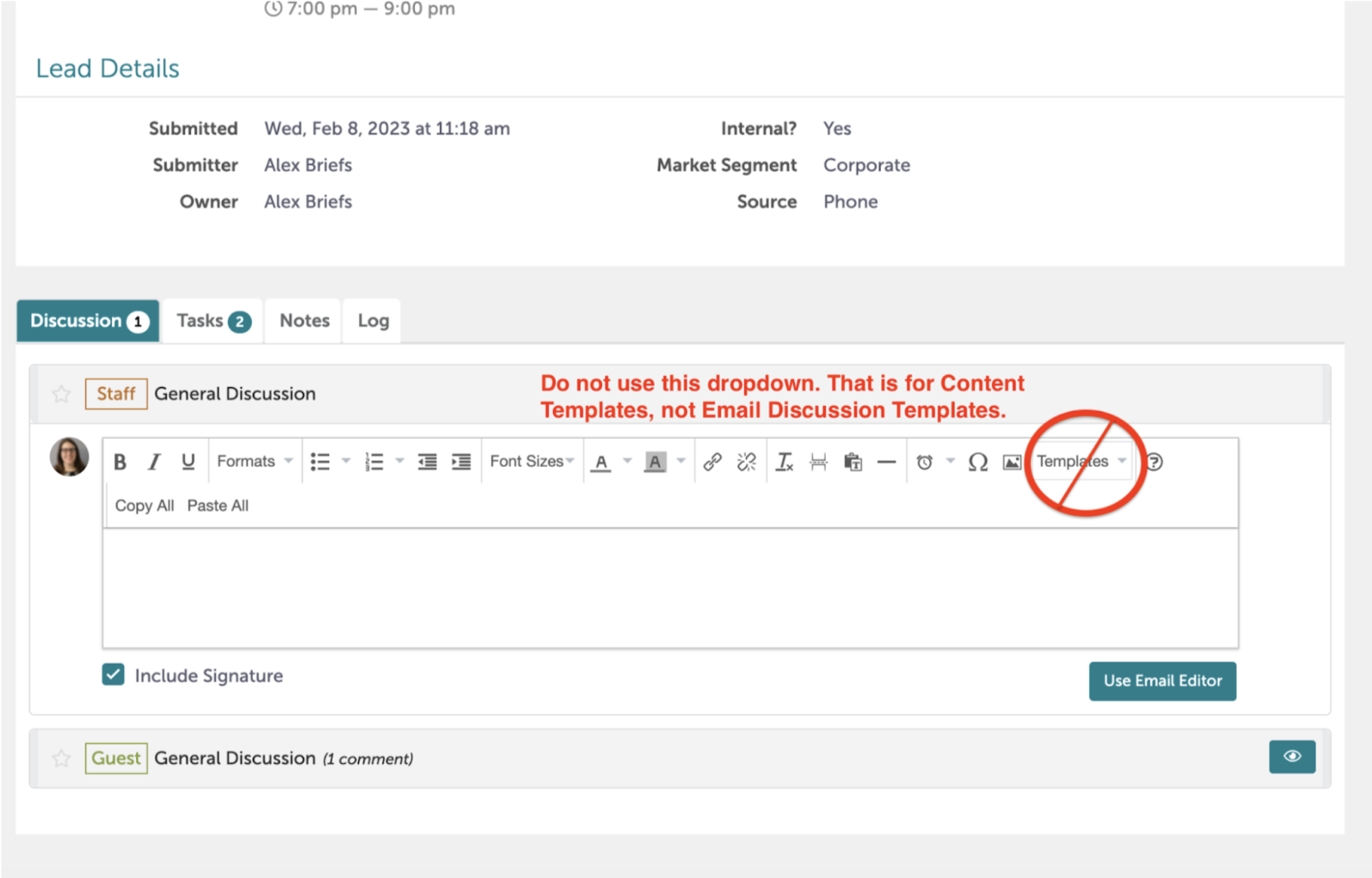 DOES THE EMAIL TEMPLATE YOU ARE TRYING TO SEND LIVE IN THE CORRECT SECTION?
Still having trouble? Time to look in Settings and/or My Profile. If you are looking for a groupwide email, Go to Settings > Discussion Email Templates. If you are looking for something that you created just for yourself, go to My Profile > Email Templates. On either of those pages, Look for the Email Template name on the list.
If you see it:
a) Check what section header it is nested underneath.
The section under which it lives will inform when it will be available to send in the event planning lifecycle. For instance, an Email Template under the Lead Templates section will only be available to send to leads. A template under Events General Template will be available for events, but not for lead or bookings, etc..
If the template is nested under the incorrect section, that explains why you do not see it from the previous page. To make that available where you need:
Open the template. Copy the text in the Body section of that page.
Go back to Settings > Discussion Email Templates.
Click Add Template under the appropriate section where you need that template available.
Title that, set the subject, and choose which locations this should be available at.
Paste in the verbiage.
Delete any merge fields in the body of the pasted text. Reinsert those (as merge fields from the
Booking fields folder will not work on event-level templates, and event-level fields will not work on lead-level templates, etc.).
Save.
Delete the original email template.
b) If the email template is nested in the appropriate section, click Edit.
If you belong to a multi-location group, check the Locations listed in the upper right. If the location where you wish to utilize the template is not selected, check it off and Save.


If you do not see it:
a) Click Show Deleted Templates.
If it pops up, click Recover. That will resuscitate the template for future use.
b) Could it be you configured this as a Personal Email Template?
Go to My Profile > Email Templates and look for it there. If it is in the wrong section, move it. If it is in the right section, make sure that when you are in the email editor trying to send the Discussion you want.
c) If you still do not see it, check with your team.
It could be that someone at your group recently changed the name of the Email Template or made that unavailable at the location(s) you have access to. They may have more context and would be able to help.